The Value of an Education
Kaleigh Paige, Staff Writer
Thomas Jefferson, the 3rd President of the United States, was determind to make education available to every citizen
"I have indeed two great measures at heart, without to which no republic can maintain itself in strength: The first is that of general education, to enable every man to judge for himself what will secure or endanger his freedom. The second is to divide every country into hundreds, of such a size that all the children will be within reach of a central school in it," Jefferson said in 1810.
When you think of the word education what comes to mind? Some thoughts that come to my mind: boring, no social life, reading, writing and arithmetic. Why is it that when we think of an education there is usually nothing good to say about it?
According to the Merriam Webster Dictionary (http://www.merriam-webster.com/), value means "relative worth, merit, or importance". Getting an education will be worth all the hard work, all the long hours of study, all the social time lost. Getting an education IS important when looking towards the future. When you get an education, you receive merit–respect and people will notice
"For wisdom will enter your heart, and knowledge will be pleasant to your soul." (Proverbs 2:10)
We live in a country where we are free to study what we want. It's not always going to be an easy road but it's manageable. There are going to be times when giving up seems to be the best option but learning to push through those times will be an education in itself.
Stories of new school construction seem to be in the media a lot. People are flying over to third-world countries to build schools and get them running in order to give the children there an education. Photos reveal school children with smiling faces. These children are so happy to have a pencil in their hand and books on their desks while children in the U.S. have to be entertained to keep them interested with what is being taught.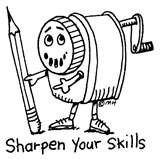 According to the Alliance for Excellent Education, "In 2009, over a million ninth graders entering school will fail to graduate four years later." Those who do not go on to receive an education are more likely to earn less income, get mixed in with illegal activity and miss out on certain opportunities.
So, what will an education get you? According to the U.S. Census Bureau (http://2010.census.gov/2010census) a person with a college degree will make almost twice as much as someone without a degree. Making money shouldn't be the reason for attaining an education, there are other things to be proud of after receiving that diploma:
Experience – we learn more through experiences. College is filled with experiences both inside and outside the classroom: networking, internships, job opportunities, volunteering.
Confidence- presentations, group projects and interviewing can make anyone's head look to the sky a little more.
Employment – being able to go to a job you enjoy with make you appreciate that degree you receive.
Pursuing an education is not easy. When giving up becomes an option, turn to the Lord. He wants the best for us and will never give us more than we can handle.
"God is faithful, and he will not let you be tested beyond your strength but with your testing he will also provide the way out so that you can stand up under it." (1 Corinthians 10:13)