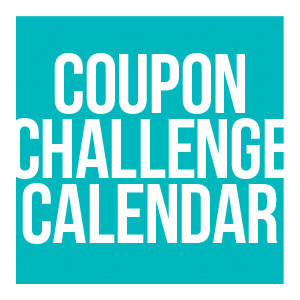 Welcome to the Coupon Challenge Countdown Calendar! 
If this is your first time here and you have not signed up for the coupon challenge please visit this post.
This is where you can come daily to find things that will prepare you for couponing. The most recent date will be listed at the top so start at the bottom and work your way up. If you have any questions along the way comment below or feel free to reach out to me at:
Email: savememoneymichelle@gmail.com
Text or Voicemail:  424-226-8766 (This number does reach me directly. Standard text message rates will apply.)
Have a great day!
SUNDAY, APRIL 7, 2013
WEEK ONE IS HERE! So what can you expect??
There will be a post every TUESDAY helping  you navigate your coupons and sales. I'm sure you will want to start clipping and using them right away but it's truly better to wait until a good sale is listed.
You will find a national list of the coupons that are in each insert. You can print it and keep it with your coupons.
You will find information on printable coupons and samples that are available. Quantities apply so you will want to be quick!
You will find weekly store ads matched with the coupons you have. This is so that you can take advantage of the biggest savings.
In today's newspaper (4/7/2013) you will want to look for one (1) SmartSourt insert and two (2) different looking RedPlum inserts.
Visit www.AdaptMag.com every TUESDAY for the latest coupon information!
April 2
Catch up day! Please take a moment to review the information you have already learned. I cannot stress the importance of having a place to put your coupons once you start gathering them on Sunday. I love The Krazy Coupon ladies because they have a ton of videos that help. I went through and found a few I think will be helpful as you begin to coupon.
April 1
Hello! Can you believe that April is here already? This upcoming Sunday starts the coupon challenge so be sure you are getting in gear by prepping daily. It's time for you learn the "coupon lingo." This may seem silly but its easy to get lost among the RP 3/24, SS 3/17, $1/4, 3/$4, BOGO, FREE-FREE, mfw and may other strange abbreviations. Here are a few
$1/2 aka $/qty means you get "this much money" off "this many items." So $1/2 means you will get $1.00 off the purchase of two products. This will be used to discuss the type of coupon that is available for the item your are interested in purchasing. The dollar amount off and quantity will always vary.
4/$8 aka qty/$ means there is a sale for "this many items" at "this price." This is often listed because to obtain the overall sale price you MUST purchase the entire quantity listed.
RP is the abbreviation for RedPlum which is a coupon insert you will find in your Sunday papers. The corresponding numbers after refer to the Sunday the RedPlum was issued.
SS is the abbreviation for SmartSource which is a coupon insert you will find in your Sunday papers. The corresponding numbers after refer to the Sunday the SmartSource was issued.
PG is the abbreviation for Proctor & Gamble which is a coupon insert you will find in your Sunday papers. The corresponding numbers after refer to the Sunday the Proctor & Gamble was issued.
One of my favorite sites, The Krazy Coupon Lady, has a more extensive list here. It's worth bookmarking or printing the information to keep with your couponing stuff.
March 31
Happy Easter! There will be no daily do today. Here's a fun freebie you can grab until tomorrow. Snag free Maybelline New York eyeliner at Publix (if your local store accepts Target coupons) by printing:
-$1.50 off Maybelline New York shadow or liner manufacturer coupon available at www.coupons.com under "personal care" (maximum of TWO prints)
-$1.00 off Maybelline cosmetic item store coupon available at coupons.target.com under "beauty" (maximum of TWO prints)
You are able to use one manufacturer coupon and one store coupon per item. This gives you $2.50 towards the cost of any Maybelline New York shadow or liner! Publix has liner for $2.50 which means you get it FREE! You can use the same combination of coupons in Target, however it may not be free. ENJOY!
March 30
Hello! There will be no daily do's for today or tomorrow. I will be spending the next two days at church and with my family. Enjoy your Easter weekend! I'm leaving the deal up just in case you want to try it out this weekend. God Bless!
March 29
Where do you get the coupons?! This is actually a very common question. You're not alone in wondering where people get coupons from to get such great deals on products. I couldn't find a coupon to save my life until I started learning how to coupon. Isn't it funny how that works? Then it seemed as if I could find coupons EVERYWHERE. There are two major forms of coupons: manufacturer coupons and store coupons. You can find these coupons in the Sunday newspaper, magazines (such as All You shown below), RedPlum mailers (3rd photo below), catalina machines at the cash register, coupon dispensers throughout the store, off the internet if you have a printer and in the mail. You get coupons in the mail by signing up for store program clubs and registering on your favorite product's web page. I'm not crazy about sharing my personal information but I wasn't sure if it would be worth it to pay for a PO Box. I haven't had any issues using my personal address and have even received free stuff! When I first started couponing my husband and I were trying to loose weight and I could only seem to find coupons for the sugary processed stuff. I am here to tell you that you CAN get coupons for organic and healthy products. What a blessing it has been to save money AND eat better! If you have any questions about if a website is safe to share your information with, feel free to ask me. Let me know if you have any questions you'd like me to address between now and April 7th. Take care!
March 28
If you have been following for a few days now you're probably wondering, what do I need?! The January/February issue of Adapt Magazine has all of that information including pictures. Just in case you haven't subscribed, here is what you will need:
A letter size file box/cabinet (highly recommended) OR at minimum and expanding file folder for now. Approx $6.97 – $14.49
Letter size Manila folders (with use of both filing methods). Approx $6.27 – $7.09
Hanging file folders, file box/cabinet only (I highly recommend Smead TUFF, the others fall apart too easy and I wasted my money on them.)
Approx Standard $6.99 – $8.00 and Approx Smead TUFF $13.54 – $17.97
Trading card sheets. Approx $3.59 pack of 10 sheets (I found the best price for these at Walmart. They even have a Coupon Starter Kit. The price was around $10 for a pack of 50 or 100 sheets. I'll update this section as soon as I get in store prices.)
Two small folders/binders with 3-ring prong in the middle OR One 3″ Binder and one small folder/binder with 3-ring prong in middle. Approx $1.00 – $5.97
A printer is highly recommended but not necessary.
At this point, maybe you're like me and wondering, why am I paying for stuff?! I just want to save money! The way I learned to coupon was to clip ONLY the coupons I need and not touch the rest. That means you have to be super organized or couponing can cause you to loose money. SAVE YOUR RECEIPTS so if you need to return or exchange anything during the challenge you won't be out any money. Also, get creative! If you already have this stuff lying around recycle and reuse.  I priced all my materials at local stores before I returned to make my purchases. In the end I saved $30 alone by purchasing my trading card sheets at Walmart instead of another retailer. I'm not a fan of Walmart but $30 is huge savings and was completely worth it.
March 27
Become familiar with Save.com, the new home of RedPlum. You may recognize the name RedPlum from my article. RedPlum is the coupon insert that periodically comes out in the Sunday newspaper. Online, you are able to print out additional coupons for the products you love. I'm a huge fan of, if there is a coupon available, use it! The goal of couponing is to stock pile the things you typically need. However, it may not be until the end of your 60 days before you have a good stockpile going. Continue to buy the things you need but check to see if there is a coupon you can print off first before you leave.
March 26
Become familiar with Coupons.com. You will be directed here often to print out coupons that correspond with weekly sales. One of the unique features of Coupons.com is the ability to print coupons from a mobile device using the Coupons.com app (a compatible HP printer is necessary.) Coupons are FREE to print unless you sign up for the Savings Club Membership. You do need to install software on your computer before you are able to print the coupons. The Savings Club gives you access to high value and exclusive coupons. The cost is $3 per month or $30 for the year. I was blessed with the opportunity to get a membership for free during the Savings Club's birthday. I was a little nervous about putting my debit card information on file, afraid I might forget about it. I can tell you that it is well worth the cost and I use it way more often than I imagined. You may see coupons listed that are available to Savings Club members only but I DO NOT ADVISE you to purchase a membership until after you have completed the coupon challenge. I would hate for you to quit in the middle and get charged $30 a year from now for something you never used.
March 25
Consider how you will obtain your weekly Sunday newspapers. As you read in the original post, I learned that I could get a much better deal by subscribing to my local newspaper. The Sunday paper is where you can find coupon magazines also known as coupon inserts. The inserts are then filed away until you are ready to use them on future sales. You will only ever clip the coupons you NEED, nothing more. Newspaper companies automatically give discounts to customers willing to subscribe. They are aware couponers purchase newspapers in larger quantities and will give you an even lower rate if you ask. Call around and see which company will give you the best deal. Locally, my paper costs $1.25 per copy if purchased at a store. However, I was able to subscribe and have 6 copies delivered at 50 cents each, what a deal!  Always buy your newspapers in EVEN quantities.
March 24
Prep for Winn-Dixie shopping.
(Benefits: fuelperks, store club exclusive coupons, e-coupons,  mobile app)
I have found that Winn-Dixie prices are typically higher than average unless you are shopping their BOGO (Buy One Get One free) deals. One of their major advantages is the fuelperks program. With a fuelperks enabled Winn-Dixie membership card (free) you can get items at member only prices. For every $50 increment of your total purchase you save 5 cents per gallon. You can then take your Winn-Dixie card to a participating gas station to save even more money.
Winn-Dixie also offers a Baby Club which sends you Winn-Dixie store coupons to your home. These store coupons can be combined with manufacturer coupons. As a fuelperks member and Baby Club member  you can save an additional 10 cents per gallon of gas with every increment of $25 dollars spent.
The e-coupon program is relativity new. I've been told by an associate that while these coupons are technically manufacturer coupons you, can still use manufacturer coupons on your purchase.
There is a mobile app available for iOS and Android device owners. Search your app store/marketplace for more details.
March 23
Prep for Target shopping.
(Benefits: store coupons, exclusive mobile coupons, price match guarantee, mobile app, 5% off REDcard Debit Card) 
March 22
Prep for Publix shopping.
(Store Benefits: store coupons, accepts competitor coupons, store club exclusive coupons, digital coupons, mobile app)
Sign up for a My Publix account here using your new couponing email address. There you can select to enroll in store clubs such as Upromise, Publix Paws, Baby Club and more which qualify you for exclusive coupons and free goodies.
Publix just launched digital coupons that can be redeemed by typing your phone number into the keypad and voila, savings without clipping! Sign up for digital coupons separately here.
If you are smart phone savvy, Publix has an app available for Android and iOS devices. With the app you can access your online grocery list or create a new one. You can also view the weekly ad, browse recipes, refill a pharmacy prescription and more. Check it out here.
March 21
Create a new/separate email address for couponing. You don't want your new coupon adventure to take over your life. Keeping information separate helps you keep control.