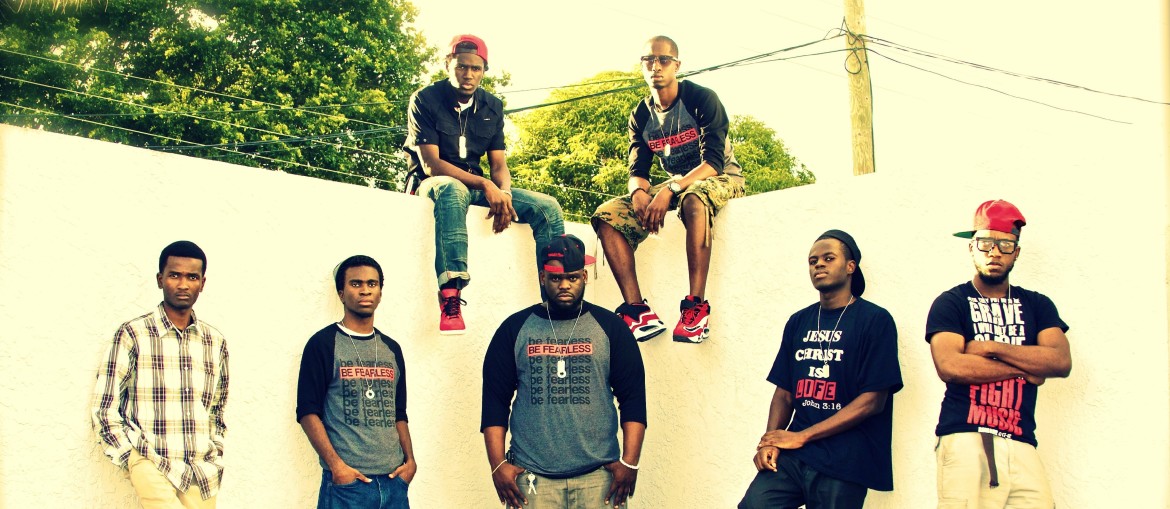 …Taking South Florida by Storm for the Gospel
By: Allysen Kerr, Editor
The Good Boys formerly known as "The Hood Boys" are taking South Florida by storm with music ready to edify the body and show this generation that God is still worth following.
Between working full-time, part-time jobs and going to school, these 20 to 25-year-old guys still find time to do the thing they love most: make music that glorifies Jesus.
Where did the name Good Boys come from?
EPIPHANY: First before we became Christian rappers or musicians, we used to do secular rap and the name was actually the "Hood Boys." Back in '08 we all got saved around the same time and from there God just quickly made a [180]-degree turn on us so we just dropped the "H" and put the "G" so the "Hood Boys" became the "Good Boys."
What's your mission right now? What do you want people to know about your music?
NEFF: Simple. Jesus Christ of Nazareth saves and we're reaching out to the people out there that don't have Him. Our music is the instrument that God uses to bring His lost sheep back to His flock.
EPIPHANY: Also our mission is to affect our community in a more biblical way 'cause a lot of unbelievers, some believers too, they view church or Christianity as very legalistic…so they already have this stereotype of who we are.
How have your lives been changed since this guy named Jesus walked into your lives?
IMAGE: Originally, I wasn't a part of the group. I came to the group about a year ago. Just like them I used to do secular rap, you know, the streets, smoking and drinking and all that. There I was dwelling in my sin and…one day…I went to a church and I heard a sermon and it affected my life and the way I was living and I realized that I was running straight to Hell. Christ, the Holy Spirit came upon me and changed my life and I was born again. After that that's when I started doing solo ministries and then I connected with these boys.
NEFF: A year ago, I became a member…I used to be a solo artist myself. I used to hang around with a bunch of thieves, drug dealers; date [women] with depraved minds. I always heard of God and I always heard of the Gospel but I never knew it intimately until one day a brother of mine who goes by the name Mr. Jhett, who's in the group, he gave me the Gospel and my heart was changed.
How have people adjusted to the new version of "Hood Boys"?
NEFF: Some don't even talk to us. There are several friends that used to be friends but…at the same time, we [must] be the light that God calls us to be and if they don't bend, then we're not going to chase. We just try our best to give them the Gospel and if they don't like it then it is what it is.
You guys are working on some new projects right now. Tell us about them.
NEFF: Right now we are working on an EP that should be coming out Spring 2013. The title is called "Fully Dedicated." It's going to be a very fun, hyper, up beat EP.
MISTA JET: Also in winter of 2013, we are going to be releasing our first album. And pretty much that album is called "Protect The House"…Some of us go to a church called Church By the Glades, Pastor David Hughes, and recently he preached a series called, "Protect the Church" so pretty much it was directed toward people to protect the church. So when we heard that sermon we were just inspired by it. We live in a very very depraved, sick world where people are just going against God…and as the sheep of the Lord we need to protect what we believe.
What is going to be the message behind the EP?
IMAGE: We just want to reach out to the youth, you know, this generation; let them know [not to] be ashamed of the Gospel. This EP just says this is the way to do it; this is the way to live it.
EPIPHANY: Around our area, South Florida, we're known as mixtape makers so we already have this image of how we sound. Well, we want to bring something different. Something that is really exposing what it means to live for Christ…we want to show another way of living, the right way.
What's your message to those who are saved? How do you stir up the Christian community to be dedicated?
NEFF: …When you're doing the work of the Lord, you're doing the work of the Lord. The motive has to be pure and led by the Spirit…At the end of the day as a Christian minister, or whatever it is that you do that glorifies the Lord Jesus as Christ, needs to be the central nucleus of the Gospel. Which means that if you're not preaching the word to bring souls to the Kingdom then whatever it is that you're doing is in vain. So they need to step out of their comfort zones and get in their word and live it and illustrate it and be that light that God called them to be.
EPIPHANY: I guess a word of encouragement is to really stay in the scriptures…and one thing I notice is that community is like, big. Very essential. Get around a group of God-fearing people, God-loving people…those who are like on fire for the Gospel. Jacked up, for Jesus. There's a single proverb: "Tell me who your friends are and I'll show you who you are."
Tell us about the ministry aspect of Rectify Music Group.
EPIPHANY: We're more than just artists; we get intimate with you where we're able to just develop you.
J TRU: It's not just about music. Music is just an avenue for us to preach the Word. We have to also remember that God called us to do many things. Pretty much from Matthew 28 verse 19 is the Great Commission, it says to go out into all nations and make disciples. That's what we should be doing. Our ministry, the thing I love about it, we don't just stay in the studio and just make music…it's really about going out in a sick world. Luckily for us we've had many opportunities where the Lord has given us the chance to go to juvenile detention centers just to talk to young guys who are going through tough time and they feel like they have no hope. But our mission is to tell them that they have hope and it's found in Jesus Christ…At the end of the day when it comes to RMG, Good Boys, we don't want to be remembered for music. The only thing we want to be remembered for is, 'Yo, those cats right there, they was preaching the word of God. The reason we know God is because they reflect the image of God.'
EPIPHANY: We're going to finish with the Gospel.
NEFF: Jesus Christ of Nazareth came down and He died for the sins of His people and if you don't have Him, you don't have life. So I advise anyone that is [reading] this to repent and believe in the Gospel of Jesus Christ. Not Buddha, not Mohammed, Jesus Christ. Amen.
The Good Boys are scheduled to minister in Gainesville this December with Authentik CTF, more info to follow. Until then, download their music for free at goodboys.bandcamp.com or www.rectifymusic.com.
Follow The Good Boys and Rectify Music Group:
Twitter: @goodboysrmg, @rectifymusic
Facebook: Good Boys, Rectify Music Group
YouTube: YouTube.com/user/8GoodBoys
Bandcamp: The Good Boys