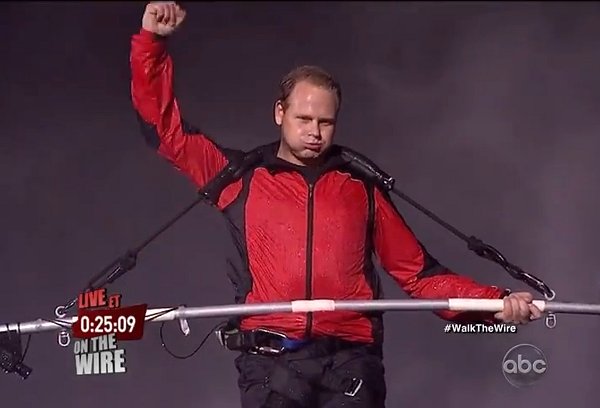 What would you do if God told you that in order to receive your promise, fulfill your dreams or reach your goals, you would have to cross the Grand Canyon or Niagara Falls? What if He then told you that the only way you were going to get across was on a 2-inch wide high wire?
Say what?
That's pretty much the reaction many of us would have. Some of us, however, like Nik Wallenda, would embrace the challenge and trek across that wire—ignoring the roaring waters below us—and make it to the other side in record time. Others, like myself, would seek another way.
Why? Because walking across a wire is scary, there's water beneath me and I can't save myself if I fall.
Friday night I watched a man do what, to myself and to others, was impossible. Nik Wallenda, a modern-day daredevil, crossed Niagara Falls on a two-inch highwire in about 25 minutes. Yes, in the time it takes to watch an episode of The Big Bang Theory, Wallenda made history.
I sat there, on pins and needles, watching Wallenda as he waited for the clock to run down so he could begin the journey across a rather large and turbulent body of water.
He was calm, cool, collected and most of all confident. Wallenda was confident of his training and he was confident of his God. Nothing else mattered to him.
I, on the other hand, kept screaming at the TV, "Turn back! You're crazy. Don't you see what you have to face"?
I believe this is the reason why God doesn't always tell us how we're supposed to make the journey. If we knew every single step He wanted us to make, we would probably, like Jonah, run away or try to find another route.
One thing I know for sure is that with God, there's only one route: obedience.
When God told Abraham to leave Ur, Abraham wasn't given a GPS or a destination. He just left. When God told Noah to build the Ark, Noah didn't know it would take him 100 years. When David was anointed King of Israel at 13, he didn't know that he would spend the next 17 years running for his life. Neither did 14-year-old Mary know that she would carry the Savior of the world and would have to endure watching people ridicule, mock and later murder her son.
Oh how I wish that God would spell out every detail of our lives and like a GPS give us turn-by-turn directions or at least let us see what's up ahead. But it doesn't work like that. We have to trust and have faith that He will see us through every part of the journey.
Yes, some days we'll end up in the valley, climbing a mountain or walking across a high wire. But regardless of the circumstances, Paul says in Philippians 3:12-20 that our only response should be to keep our eyes on the prize.
At 33, Nik Wallenda will forever be remembered as the first man to cross Niagara Falls on a wire in over a century. He will always be etched in my mind as someone who saw an obstacle, overcame every hurdle and won.
Just like Nik Wallenda, we aren't living for the natural things of this world—money, fame, a spouse, careers; we're living for something that is beyond our view, a life measured by how well we walked across life's wire with God.
Walk well.