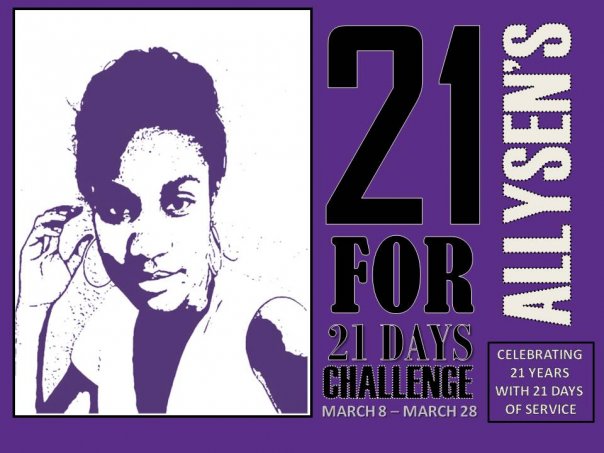 Twenty-one years ago…a star…no I'm kidding. No, but March 8 is my 21st birthday and in honor of reaching this milestone I wanted to do something a little out of the ordinary…
I am going to serve others for 21 days…yeah, I know, sounds crazy. But I wanted to do something that would really be memorable and life-changing and I want you to join me.
So for 21 days, starting March 8, I want to challenge you to go out of your way to serve instead of being served.
You can serve someone by opening the door, buying lunch for someone you don't know, paying the toll for a stranger, picking up trash, complementing a random person, washing your parents cars, etc…
The list could go on forever, but you can serve in anyway you want. But it should be somewhat of a challenge. Going out of your way for people you don't know is always hard, but it's so rewarding.
Jesus said in Luke 6, "But if you love those who love you, what credit is that to you? For even sinners love those who love them. And if you do good to those who do good to you, what credit is that to you? For even sinners do the same. And if you lend to those from whom you hope to receive back, what credit is that to you? For even sinners lend to sinners to receive as much back But love your enemies, do good, and lend, hoping for nothing in return; and your reward will be great, and you will be sons of the Most High. For He is kind to the unthankful and evil.Therefore be merciful, just as your Father also is merciful."
So be creative! And I want to hear about it AS your completing the challenge. Feel free to post videos or send me letters about your experience. I'll be posting stuff about how I'm doing as well.
THE BEST STORIES WILL BE PUBLISHED IN ADAPT MAGAZINE!!!!